Papillon+TM
Brachytherapy system, the Papillon+™ comprises a mobile X-ray generator suspended by an articulated and height-adjustable support arm.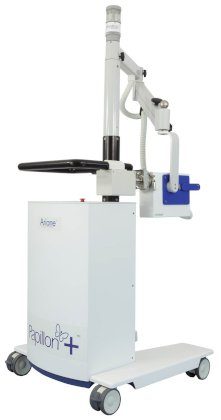 What is Papillon Therapy?
With a suite of application adaptors, the Papillon+™ can be modified for various clinical applications, including IORT breast, Superficial Skin as well as our signature Papillon Contact treatment.
The Papillon+ consists of a mobile floor support stand with an integrated electronics cabinet, plus a shielded parking tube which is vital for operators to conduct safe warmup activities. The patented MicronodeTM X-ray generator communicates wirelessly with the all-in-one workstation enabling users to safely operate the system be that in a dedicated brachytherapy suite or an Operating Room.
Interested in Papillon Therapy Workstations?
The Papillon+™ is a new paradigm in brachytherapy treatments, providing an easier method of treating accessibly tumours. Contact us today for more information.