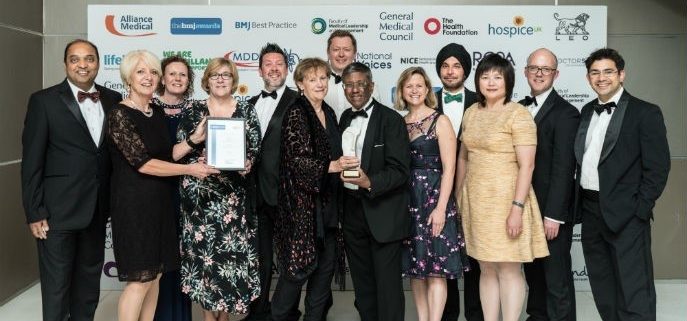 Clatterbridge Cancer Centre win BMJ Award for Rectal Cancer Care
Clatterbridge Cancer Center win Prestigious UK Cancer Care Award
Introduction
A coveted British Medical Journal award was recently bestowed on the Papillon team at The Clatterbridge Cancer Center. The Cancer Care Team category was won by the entry—Papillon for Rectal Cancer.
This life-changing treatment was pioneered by The Clatterbridge Cancer Center when Lead Papillon Clinician Professor Arthur Sun Myint initially introduced the method to the United Kingdom, more than two decades ago. He stated that the honour was the reward for the team's hard work and their philosophy of always putting patients' interest first.
"I was very humbled. This is a reward for 25 years of blood sweat and tears and championing the rights of our patients.
"Patient care is at the centre of everything we do. Since 1993 we have been offering an alternative to surgery and a stoma for our patients.
"As demand grows for Papillon treatment, we are also helping to educate and train clinicians to provide a wider service in the UK and beyond."
An alternative treatment for rectal cancer
As an alternative to radical surgery, non-operative management of rectal cancer applying external beam radiotherapy (EBRT) or external beam chemoradiotherapy (EBCRT) is slowly gaining acceptance since it prevents both a stoma and extirpative surgery.
Yet, local regrowth can develop in up to one-third of patients which can be cured only through salvage surgery. As a result, the patients' overall chance of organ preservation is reduced to less than 40%.
Therefore, organ preservation can be improved in patients only by reducing the local regrowth. One well-designed method is to provide contact X-ray brachytherapy, also known as Papillon, to reduce the local regrowth.
The Papillon team at the Clatterbridge Cancer Center laid out the goal of the service—to lower stoma and surgical mortality rates by recommending a transition from surgery to non-surgical, minimally invasive treatment.
The submission also underscored achievements such as recommendation made by The National Institute for Health and Care Excellence (NICE) in 2015 as well as a survey performed by NICE that indicated a high level of patient satisfaction.
At the Clatterbridge Cancer Center, the Papillon Suite has recently celebrated its silver anniversary. Since its inception at the Wirral hospital 25 years ago, workers have treated 1450 rectal cancer patients.
The BMJ Awards
The BMJs are known to be the leading medical awards in the UK and were presented at the Park Plaza Westminster Hotel in London on Thursday 10th May 2018.
The other finalists in the category are as follows:
the Barts Health Cancer Care at Home
the Nurse Led Immunotherapy Clinic at Leeds Cancer Center
the ORTC Program at Oxford University Hospitals
the RAPID Program at Wythenshaw Hospital in Manchester
Improving Breast Screening at Medway NHS Foundation Trust
The BMJ Awards are now in their 10th year, promoting excellence in healthcare and recognizing the inspirational work of healthcare workers throughout the country.
https://www.arianemedicalsystems.com/wp-content/uploads/2018/07/BMJaward.jpg
458
687
Ariane Medical Systems
https://www.arianemedicalsystems.com/wp-content/uploads/2019/10/logo.png
Ariane Medical Systems
2018-07-25 16:08:07
2019-11-14 11:45:08
Clatterbridge Cancer Centre win BMJ Award for Rectal Cancer Care