Further treatment modalities under development.
The Papillon+ radiation characteristics that mimic Ir-192 at short distances are ideally suited to post operative vaginal cuff treatment. A "step and shoot" technique is being developed to deliver a uniform axial dose via a disposable applicator system.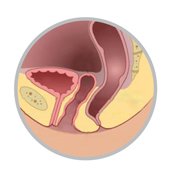 The Papillon+ offers a simple and accurate means of delivering a local "boost" treatment during surgery to complement regional external beam radiation therapy.
The oblique applicators that are under development facilitate access to the most difficult treatment sites.